Basisdaten
Marke

Rolex

Modell

Daytona

Uhrentyp

Armbanduhr

Referenz

6263

Land

Italien

Stadt

Rimini

Baujahr

1978

Zustand

1 (sehr gut)

Chronograph

ja
Durchmesser (mm)

37

Höhe (mm)

13

Gehäusematerial

Stahl

Material des Armbandes

Stahl

Farbe des Armbandes

stahlfarben

Schließe

Faltschließe

Material Schließe

Stahl

Material Lünette

Stahl

Farbe des Ziffernblattes

silber

Zahlen Ziffernblatt

keine

Aufzug

Handaufzug

Kaliber/Werk

727

Anzahl Steine

17

Uhrenglas

Plexiglas
Beschreibung
For the request of photographs in high resolution and/or more information, please feel free to contact us.
We accept payments with bank transfer, credit card or of Herando.
Once received confirmation of payment, the shipment is done the same day with courier assured, and with delivery expected within 24/48 hours to the address of the purchaser.
The photographs disposed on the site, reproduce faithfully the watch on sale with its his related accessories.
We also evaluate it partial exchange or total with other watches.

Notes & Conditions:
Rolex Cosmograph Daytona 6263 steel, year of production 1978, bezel MK3 steel insert bakelite graduated scale 200, plastic glass to domed Tropic 21 original Rolex of epoch, dial silver color with writing red big Daytona - counters change hazel color, crown of charge Oyster Triplock 700, movement mechanical with manual winding caliber 727, bracelet oyster steel deployante Rolex.
Watch overhauled in excellent condition, original in every detail, of highly collectible, full set (box with sticker Rolex applied 6263, various accessories, and warranty perforated of Dealer official Rolex BUCHERER), warranty/declaration of sales of our shop valid 12 months.

Marca: ROLEX
Cosmograph 6263 Daytona Big Red silver brown dial Full Set 1978
Referenza 6263
Seriale cassa: 558XXXX
Seriale movimento:
Anno produzione: 1978
Cassa/descrizione: Acciaio escluso corona 37 MM – anse 19 MM
Fondello: 6263 acciaio oyster Patented
Spessore cassa: 13 MM compreso vetro plastica
Impermeabilità:
Ghiera: MK3 acciaio inserto in bachelite colore nero – scala graduata 200
Vetro: Plastica a cupola Tropic 21 originale Rolex dell'epoca
Quadrante: Argento scritta grande Daytona colore rosso – contatori virati colore nocciola
corona di carica Oyster Triplock 700
Movimento: Meccanico manuale calibro 727
Bracciale: Acciaio 7835 19 – VC oyster deployante finali 571 originale dell'epoca Rolex
Scatola Rolex: 68.00.06 con bollino applicato 6263 Rolex originale dell'epoca
Garanzia Rolex: Traforata 6263 – 558XXXX Dealer BUCHERER originale Rolex dell'epoca
Garanzia A&D SRL: 12 Mesi

Note e condizioni:
Rolex Cosmograph Daytona 6263 acciaio, anno di produzione 1978, ghiera MK3 acciaio inserto in bachelite scala graduata 200, vetro plastica a cupola Tropic 21 originale Rolex dell'epoca, quadrante argento scritta grande Daytona colore rosso – contatori virati colore nocciola, corona di carica Oyster Triplock 700, movimento a carica manuale calibro 727, bracciale oyster acciaio deployante Rolex.
Orologio revisionato in ottime condizioni, originale in ogni suo minimo dettaglio, di alto valore collezionistico, full set (scatola con bollino applicato 6263, accessori vari e garanzia traforata ufficiale Rolex BUCHERER), garanzia/dichiarazione di vendita nostro negozio valida 12 mesi.
Verkäufer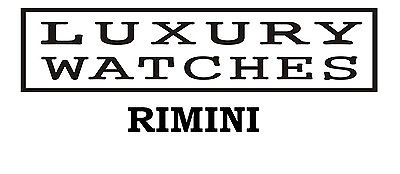 A&D Srl LUXURY WATCHES RIMINI
G. Garibaldi 13
47921 Rimini

Italien
Impressum
A&D S.r.l. - Via G: Garibaldi n° 13 - 47921 Rimini (Italia)
Tel. +39 0541 1573087 Tel/Fax + 39 0541 1573089
P.IVA 03857980407 - R.E.A. RN 313349 - Reg. Imp. 03857980407
info@aedwatches.com – www.aedwatches.com
Ansprechpartner
Herr . .
Telefon 0039 (0) 541 1573087
Mobilfunk 0039 342 5441665
Fax 0039 (0) 541 1573089