Informazioni di base
Marchio

Altro

Modello

Kraken 66

Paese

Cina

Città

Hong Kong

Anno di costruzione

2017

Condizione

Come nuovo

Categoria

Barca a vela

Spostamento dell'acqua (t)

37,75

Cabine

10
Numero di motori

1

Carburante

Diesel

Capacità serbatoio (l)

1.900

Riserva d'acqua (l)

1.200
Scafo

GFK

Larghezza (m)

5,49

Lunghezza (m)

20

Bozza (m)

2,65

Cuccette

4
Descrizione
The Kraken 66 is the flagship of the Kraken range and epitomises the key features the brand prides itself on; safety, comfort, reliability and performance.
The Kraken 66 has been styled as the perfect cruising yacht for those who love to sail adventurously, without the need for a crew. Measuring 66 feet in length, the Kraken 66 has a multitude of features that result in her handling - in all conditions - being similar to that of a much smaller yacht. Features including the hydraulic power pack option (providing instant power for all winches and sail controls) and the design of the deck layout mean that sailing with a short-handed crew or even just a couple is easy and enjoyable.
The helmsman can adjust all the aspects of the sail plan through controls at the console or winches, from the comfort of a wide helm seat. This central control hub is designed to eliminate any aspects of stress and concern whilst sailing.
The spacious interior and cockpit of the Kraken 66 are paired with a forward facing interior raised navigation station located near the centre of the boat. Along with a luxuriously, comfortable, adjustable chair and fantastic visibility. This area is said to resemble that of a captain's chair in a super-yacht.
The Kraken 66 offers a high level of standard equipment and a comprehensive list of optional extras and bespoke accessories that allow for any degree of personalisation to create a tailor-made, luxurious feel. This level of specification is virtually unobtainable in any other vessel of this size and price.

Dibley Design
Kevin Dibley is a New Zealand based Yacht Designer with a design portfolio that is as extensive as it is varied. Whether racing or cruising, Kevin has been involved in most areas of yachting throughout his 30 plus years in the industry, both as a sailor and a designer.
Kevin has worked alongside America's Cup Hall of Fame yacht designer Laurie Davidson on various high-end racing and cruising designs over the past 20 years. He also has a close association with several other international designers that gives each project a synergism that is rare in modern design studios.
His understanding and experience of 'blue water cruising yachts' is reflected in the design of the whole Kraken range
Venditore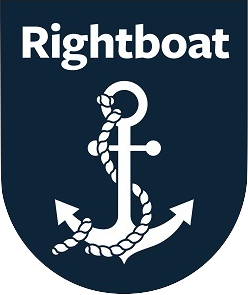 Rightboat
Castle Malwood Minstead
S043 7 PE Hampshire

Regno Unito
Impronta

Company Rightboat
England head office
Castle Malwood, Minstead
Hamshire S043 7PE
United Kingdom
info@rightboat.com
www.rightboat.com

Controparte