Basisdaten
Modell

66

Land

USA

Baujahr

2015

Bootstyp

Sonstige

Kategorie

Segelyacht

Wasserverdrängung (t)

34,8

Anzahl Betten

5
Anzahl Motoren

2

Reisegeschwindigkeit (kn)

9

Reisegeschwindigkeit (km/h)

16

max. Geschwindigkeit (kn)

10

max. Geschwindigkeit (km/h)

18

Treibstoff

Sonstige
Breite (m)

8,61

Länge (m)

20,12

Motor

Fukuta Electric Motors

Anzahl Kabinen

4
Beschreibung
- Truly a unique offering -



"EXTREME H2O" is the most exciting Gunboat 66 available today!
A comfortable, attractive, modern interior, belies the no holds barred approach to performance - incorporating numerous state-of-the-art performance design concepts, making it one of the highest performance cruising catamarans in the world. With no expense spared - this boat was conceived to set the bar for high end performance cruising/racing catamarans, world wide.
*************************************************
The Design Philosophy

A product of the Morrelli & Melvin Design & Engineering design office, "Extreme H2O" was optimized for performance throughout a wide range of wind conditions.
A Southern Spars rotating wing spar is coupled with an aft beam traveler, tiller steering for racing, mainsheet controls at all steering stations and a powerful sail plan, with a full inventory of high performance sails. This powerful sail plan is managed with advanced sail handling systems, with 4 high speed hydraulically driven winches in the forward cockpit, and at all steering stations, with an additional push button mainsail trim.



Morrelli & Melvin's designed "C" foils provide up to 4,000 kg of vertical lift and the "T" rudder to reduce pitching when the wave angle is forward of the beam. The "T"" foils are removable while boat is in the water so the boat can be easily configured for optimum speed and comfort.
All of this is coupled with a fully integrated hybrid drive system, with retractable propeller drives, to minimize drag.
The result - performance of up to 30 knot sailing speeds, without sacrificing the luxury features one expects in a yacht of this category.
*************************************************
Construction:

"Extreme H2O" began construction at the Gunboat yard, in South Africa. After Gunboat closed its doors, the boat was moved to the US and completed by Westerly Marine - a custom boat builder, founded in 1970, and located in Santa Anna, California - specializing in Carbon Fiber Performance Vessels. Over 56,000 hours were required to complete the boat to certified standards.
Details:

Hulls: Carbon inner skin and outer skin / 25mm Corcell Sandwich
Cabin: Carbon inner and outer skin / Nomex honeycomb and Corcell sandwich Cabin soles: Carbon / Nomex honeycomb sandwich
All secondary taping Carbon fiber / Epoxy and post cured All laminates vacuum-bagged and post cured.
Energy Efficiency:

All of Extreme H2O power requirements such as refrigeration, instrumentation, lighting, winches are run easily run from the battery bank. The large inverters allow use of Aircon throughout the night without the use of generators. The boat has a battery operated powering range of 45 minutes, without the use of generators.
The fully integrated hybrid system will allow you to depart the dock, enjoy a day of sailing and return to the dock without ever having to listen to a diesel motor. Better yet, you can enjoy a tropical night at anchorage with 30,000 BTU of air-conditioning without the noise of a generator.
Accommodations

4 Double staterooms in hulls plus port forward crew quarter. 3 full baths, including carbon washing basin and carbon counter tops with stand up shower.
Port Forward Compartment: gear and sail sail storage
Stbd Forward Bow Compartment: large sail locker can fit the entire sail inventory on shelves. Salon:

Large dinette to port. Seats 10 - with storage underneath. Additional settee area with coffee table, drop down for day bed. Elevated navigation area, forward.
U shaped Galley ("Up") – 5 burner Gaggenau stove, 3 refrigerator drawers and 1 freezer with icemaker, built in Miele Mtouch whole bean coffee system, Miele microwave and gas oven.
Flat screen TV on electrical lift disappears in the captains seat for a modern interior look. General:
The interior is modern with horizontal mahogany grain veneer and bamboo floors with carbon and Corian countertops that are attractive, but practical, in long distance cruising and racing.



Sails

All Sails by North Sails:
- Mainsail #1: 186m2, 3Di, 760i (37,200 dpi) with 2 offshore plys, 3 reefs, 6 full C-Tech carbon battens

- Mainsail #2 (new Jan 16) 193m2, 3Di, 870 RAW, 2 offshore plys, 3 reefs, 5 full C-Tech carbon battens

- Fractional screacher 106m2, 3Di, 760i, RAW, 19,600 dpi, on vectran luff cable

- Mast Head screacher 150m2, 3Di, 760i RAW on vectran luff cable for bottom up furling Solent: 72m2, 3Di 760i (39,800 dpi), Hank On,

- Staysail: 41m2, 3Di 760i (35,000 dpi) roller furling on Vectran luff cable

- MH0 reacher: 265m2, 3Di 760, 16,800 dpi, internal aramid luff cable for bottom up furling R1 (New Jan 16): 3Di 87 Raw, 8820 Dpi, internal luff cable, top down furling

- A3: 350m2, laminate, designed for external aramid luff cable for top down furling. A4: 400m2, SK150, designed for external luff aramid luff cable, top down furling

- A1: 358m2, NDPO 69/49 (polyester) designed for external aramid luff cable, top down furling Fractional reacher: 186m2, 3Di, 16,800 dpi, internal aramid luff cable bottom up furling
Rigging

Mast, Boom, Forward Beam and Longeron Prepreg Carbon by Southern Spars New Zealand,

Standing Rigging is EC6 by Composite Rigging,

Running backstay are aramid
Equipment Deck

All Hatches by Lewmar All Portlights by Gebo

Longeron mounted Tack line winch: manual Harken 60.2

Forward cockpit Winches: all hydraulic

Primary Winches: Harken 990.3 ST Secondary Winches: Harken 60.3 ST

Aft cockpit winches: used for Traveler and davit lines: Harken 60.3
Ground tackle:

1 x spade S200 Anchor

1 x 100ft Chain and 200ft ¾" Rode

1 x Lewmar V5 hydraulically driven Anchor Winch 1 x Danforth day anchor
Tender:

Falcon 450 RIB with center console with 30HP Honda Engine
Safety / Liferafts:

- 2015 Ocean UltraLite 10 – PAX meeting all ISO requirements, packed in carbon hard pack & mounted on aft beam

- JonBuoy bulkhead mounted recovery module with remote release at nav station and AIS location transmitter

- 10 qty KRU sport pro ISO manual inflation PFD/harnesses

- 10 qty personal AIS / DSC transmitter attached to KRU PFD 10 qty personal wide beam laser attached to KRU PFD

- 2 qty ACR EPIRB's (one on boat and one in life raft grab bag)

- All Category 1 required safety gear for multihulls per SER requirements

- 1 x Oceandata system Upside Up anti capsize with mainsheet release and all the parts for a forward cockpit release system. --Manual release buttons at each helm location and forward cockpit.
Electronics & Navigation WTP3 processor

- Forward cockpit - with 4qty 20/20 displays and 2 qty race displays all mounted on mast

- Main cabin 1qty graphic display at Nav station and 1 qty graphic display in inside helm

- Aft cockpit 4 qty race displays

- 1 x H5000 barometer module

- 1 x H5000 3D motion sensor

- 1 x BB&G 57" mast wand

- 1 x celesco String Pot for mast rotation sensor

- 1 x celesco string Pot for rudder position

- 1 x Simrad GS70 GPS 1 x Furuno GP33 GPS

- 1 x Furuno FA 150 AIS transponder and display

- 1 x Icom M400BB VHF with integrated AIS antenna

- 2 x Standard HX290 protable VHF

- 1x B&G 4G Radar

- 1 x F250 Sat Com

- 2x Naauticomp 15" sunlight Monitors

- 2 x Intense PC, window 7, RAM 8GB, Core 1.8GHz 2 x copies of Expedition software

- 1x copy of Deckman software

- 2x NavNet 3D Vector MapMedia US West Coast and Hawaii Charts

- 1 x Globe Surfer Quad band 3G

- Cell phone receiver

- 1 x Wave Wifi booster for onboard wifi

- 1 x B&G H5000 Autopilot Computer & Controller located at interior helm

- 1 x Raymarine Type 3 linear drive hydraulic drive

- 1 x headstay load cell 2 x shroud load cell

- 1x mainsheet load cell

- C-Zone CAN-Bus control for non-critical electrical systems



Electrical, Power & Equipment Hybrid system;

- 2x 4 cylinder Volvo D2-40 20kW generators, output of 260 – 320 VDC

- 2 x AC High efficiency Fukuta motors with 25kW continuous and 40kW peak power, 3 phase, liquid cooled

- 2 x AC motor Traction Controller, liquid cooled, DC input, AC motor output

- 1x LiFePo4 Battery Bank, 288 volt nominal, 28.8kWh, 11 enclosures, 8 cells per enclosure 1 x 4kW AC/DC shore power battery charger

- 2xVDC to 24 volt charger

- 1 x 100 – 400 VDC to 12 volt charger

- 1x 250 – 320 VDC to 230 VAC inverter – liquid cooled to run all appliances (AirCon, microwave, refrigeration)

- 2x 20 Gal Torrens Water heater (Heated by engine and AC) 110VA C Sockets in all Cabins and Heads
Plumbing

- 1 x 100 gallons Water 2 x 75 gallons Fuel

- 3 x 20 gallons Holding Tank

-1x 15 gallon sweet water tank

-2x 18 gallon hot water tanks AC or engine heated.

- 1x Spectra Cape Horn water maker plumbed to a 15 gallon stand alone sweet water tank
*********************************************
The Result:

An elegant, comfortable, extremely fast catamaran - setting the bar for large performance racing/ cruising catamarans - worldwide. And all of this - housed within the elegant look of the iconic, Morrelli Melvin designed Gunboat 66.
This boat has to be seen, to be truly appreciated. So, if your interest is the ownership of a boat which is truly a cut above - an eye catcher. One that can cruise in elegance and comfort - and yet will set the bar, when racing with the best of breed. Then this is a boat you need to seriously consider.
Verkäufer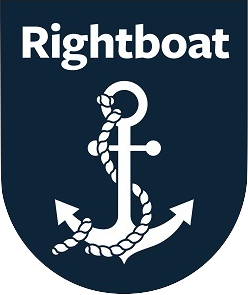 Rightboat
4 Pedlars Walk Ringwood
BH24 1EZ Hampshire

England
Impressum

Company Rightboat
England head office
4 Pedlars Walk, Ringwood
Hampshire BH24 1EZ
United Kingdom
info@rightboat.com
www.rightboat.com

Ansprechpartner
Anfrage
Was möchten Sie als nächstes tun?
Registrieren Sie sich, um von diesen Vorteilen zu profitieren:
Merkliste für interessante Objekte
individuelle Suchaufträge
Zugang zu allen Angeboten
Jetzt registrieren
Herando Newsletter