Basisdaten
Marke

Hartmann-Palmer

Modell

Johnson

Land

USA

Stadt

enroute to Newport, Rhode Island

Baujahr

1990

Bootstyp

Sportboot

Kategorie

Motoryacht

Wasserverdrängung (t)

0,168
Anzahl Motoren

1

Leistung (PS)

530

Reisegeschwindigkeit (kn)

10

Reisegeschwindigkeit (km/h)

18

max. Geschwindigkeit (kn)

12

max. Geschwindigkeit (km/h)

22

Treibstoff

Diesel
Breite (m)

8,08

Länge (m)

37,62

Motor

MTU

Tiefgang (m)

5

Anzahl Kabinen

3
Beschreibung
WALKTHROUGH
CREW QUARTERS 
Crew quarters are forward. They include one captain's cabin with double bed, one cabin with two bunks and one cabin with three bunks. Each crew cabin has an ensuite head. Continuing aft is a crew dinette which is across from the port side Galley. 
GALLEY 
The galley was redesigned by a professional chef and refurbished in 2010/11. Countertops are granite; appliances are top of line, enabling a chef to produce five-star meals. See GALLEY List. 
UTILITY ROOM 
Below the galley, on the engine room level, is a large space housing the batteries, washer and dryer, two large fridge/freezers and three temperature-controlled wine coolers and extra storage. Serious provisioning can be accomplished; aligned cargo hatches allow provisions to be dropped from the deck directly to galley or utility room. See GALLEY List.
ENGINE ROOM
Aft of the utility room is entrance to the engine room, located beneath the raised salon. It is stand-up, very spacious with good access to all machinery, advantageous for long term voyaging and easy maintenance. Most all major equipment is located here. A work bench and general layout make it a comfortable area for the engineer. See MECHANICAL EQUPMENT List.
INTERIOR
Designed by famous interior designer, John Munford, Axia's classic teak interior is one of the finest. Newly re-plated gold hardware (2019) sets off the rich honey-colored wood. The cabin soles are finished with grooved solid teak planks and bulkheads are faced with quarter sawn teak throughout. Fresh interior fabrics enliven the classic look. In the salon granite punctuates the hearth and bar top, while marble is the stone used in the owner and guest bathrooms. 
RAISED MAIN SALON
From the Galley, a few steps up and aft lead to the raised main salon.  It has all the hallmarks of the new trend--light and visibility. Large, surrounding windows, pour light into the salon to offer a sense of space and freedom as well as an expansive, lovely view to the outside. A large custom varnished table inlaid with a compass rose easily seats eight for meals or card games. A full wet bar discreetly hides service while inviting guests forward. A lounge area on the other side opens to a real wood-burning fireplace, though the current owners have never used it and the Charlie Noble accessory has been removed. 
AFT QUARTERS
Lower Salon/Den  
Down a few steps from the main salon is a corridor leading aft.  On the starboard side is a large lower salon, or den, with a library, desk, entertainment center and sofa. Pocket sliding doors permit the doors to be closed or to stay open and function as a continuation of the salon. This room is very versatile and can serve as an extra sleeping space. 
Communications Room/Office
On the other side of the passageway is a fully equipped office especially for communications and navigation. VSAT, Sat C system, ship's computers, printer, and navigational instruments are housed here for comfortable, efficient use. Extensive ship's manuals, nicely bound, line the shelves.
Guest Staterooms
Continuing aft, on each side of the corridor are mirror image guest staterooms with twin beds and a bureau/night-stand between. A hanging locker and drawers provide ample storage while individual lamps above each bed provide reading as well as ambient room light. Ensuite baths, beautifully appointed with a marble-clad stall shower, toilet, sink with marble counter and recessed medicine cabinet complete each guest space.
Master Stateroom
The owner's stateroom is aft and the full width of the vessel.  It has generous wardrobes (including a shoe locker), a large vanity/desk and settee. The settee can convert to two over-under berths for children. The owner's ensuite bath, with marble accents, includes a full- sized bathtub with rain shower, toilet and sink with counters and recessed medicine cabinet.
ON-DECK PILOTHOUSE
Up stairs from the salon and aft is the fully enclosed on-deck pilothouse featuring the usual instrumentation and controls for sailing and navigation. The helm is centered here and fully protected. Visibility is superb, given the helmsman is standing at deck level. A raised observation seat is farther aft. The pilothouse side windows can lower and three overhead hatches give plenty of fresh air to this area. See ELECTRONICS AND NAVIGATION EQUIPMENT List for instruments.
GALLEY
Miele 6-burner electric induction cooktop (new 2017)
Miele electric gimbaled oven (new 2019)
Panasonic Microwave, Inverter Dimension IV with broiler function
(2) Stainless steel sinks (new 2010)
Insinkerator Garbage Disposal (new 2010)
Instant Hot Water (new 2010)
Grunert custom stainless refrigerator in galley (new 2011); new compressor and monitoring gauges (new 2018)
Crew refrigerator in crew mess.
Liebherr refrigerator with drawers; at bar in cockpit (new 2010)
(2) Grunert custom built-in stainless deep fridge/freezers, each 35 cu.ft.; in utility room (new 2011) 
(3) Signature wine coolers in utility room (new 2011)
Miele Professional PW 6065 Vario front loading clothes washer; in utility room (new 2018)
Miele Professional PT 5136 front loading clothes dryer; in utility room (new 2016)
DECK AND HULL
Refit history:
In 2010 the owner of Axia decided to change out the rig from aluminum to carbon to increase the performance of Axia for Corinthian racing. Later, in 2014 he further decided to increase the draft for even better performance with a new, deeper keel and new rudder. The original keel was laid in 1989. If an owner should wish to restore the draft to its original depth of 12 ft, it is very doable.
In 2019:
Axia was completely painted new. Hull is Awlgrip Flagship Blue and superstructure Matterhorn White.
New exterior varnish, stripped and many layers of sealer and two-part varnish applied
New gaskets for hatches
Anchors re-galvanized
New anchor chains
In 2014: 
New aluminum and lead keel plus a composite rudder (Front Street Shipyard in Maine)
New deck hatches (Front Street Shipyard) 
Replace thru-hulls to (6) new stainless steel ones in engine room.
In 2011:
New teak decks by Teak Decking Systems.
In 2010:
Removed cap rails and reset  
New cockpit cushions
Deck layout from forward to aft: 
Bow has a bell and two independent windlasses for each anchor. Main mast is surrounded by winches at base. Side decks lead aft to substantial gates which open to transversal passageway with access to social cockpit aft or pilothouse door leading forward. The pilothouse roof extends to cover virtually the entire cockpit for maximum weather protection, while the aft deck is exposed.
Directly aft of the pilothouse, a wet bar with refrigeration  is to starboard and stowage to port.  A large table with U- shaped settee and directors' chairs invites alfresco dining. On the other side is another settee/lounge area and passageway to the aft uncovered deck. Here the mizzen mast, tender and a crane reside as well as two settee/lockers.  The stern gangway, an electric Sanguinetti passerelle, retracts into the transom. The large lazarette stores Atlas and gear.  
Deck equipment includes:
Brig 18.5' tender with 115 HP Yamaha (Both new 2017)
Bombard C-4 inflatable dinghy with 15 HP outboard (crew tender)
Two Steen Type 23 vertical windlasses
Side gangway/ boarding ladder of stainless and wood
Sanguinetti Passerelle
Two 400 lb Poolanker anchors recessed in hull; (re-galvanized 2019)
Two 500 ft. 9/16 inch high-tensile galvanized chain (new 2019)
Sanguinetti low profile hydraulic tender lift; not in commission
(8) Modern Blowup Fenders
SAFETY
(2) 16-man Ocean Safety life rafts
One MOM Life Sling
70 life preservers (adults and children)
(4) life buoy rings:  (2) with Pains-Wessex day markers with smoke and lights, (2) with 30m of line 
(10) Inflatable Life Vests
 (8) Immersion Suits
ACR satellite 406 Mhz EPIRB
(2) ACR Pathfinder SART
MSOS Medical Kit replaced (new 2019); upgraded seasonally
See Fire Safety under MECHANICAL EQUIPMENT
ELECTRONICS AND NAVIGATION
(2) Simrad GN33 DGPS
Furuno Navnet radar multi-system; 72 and 48 mile 
Furuno 8050D 48-mile radar w/gyro converter AUGC1
(2) Green Marine monitors (new 2016)
V7 KVH Sat system (new 2016)
Ship's computer in office (new 2016) 
Nav computer in pilothouse (new 2017)
Simrad AIS V50-35 system (new 2017)
Furuno Felcom 18 Inmarsat C data terminal (new 2019)
Simrad AP 70 autopilot (new 2015)
Simrad QS 80 autopilot (joystick control; can steer with joystick or wheel)
(2) B&G 5000 system; monitoring wind, speed, depth…
(3) analogue wind, depth, speed gauges
(6) B&G repeaters; 4 on mast,1 coach roof, one captain's cabin (new 2019); others in crew mess and office
Boning-AHD 514 OP; Main engine control and monitoring system (new 2019) in PH/ER
Navigation and Instrument lights panel
Ships Alarm System Panels
Skanti TRP1150 GMDSS MF / HF radio telephone
Ray 430 Loudhailer
RCL-100 Searchlight
AHD-VCP Camera; in engine room through port side monitor
Navitron System NT880-AHR gyro compass
Sestbell-Moore magnetic compass
Sat gyro compass
6 ICOM handheld VHF radios
AV system:
Internet capable TV in all rooms
ELECTRICAL SYSTEM
(2) Northern Lights 55 KW, 50 HZ/60 HZ 
•  Port Generator: 8098 hrs; last serviced 7600 hrs (June 2020)
•  Starboard. Generator: 7472 hrs; last serviced 6800 hrs (June 2020)
•  Generators exhaust system replaced. (new 2019)
Atlas Energy 25 KVA shore power frequency converter
(3) Mastervolt battery chargers 
(3) Victron inverters: (1) 24v to 220V; (2) 24v to 110v (new 2019)
Isolation transformer
Newmar converter; in office, powers 24 to 12 volt instruments. 
New house batteries: Gel cell (new 2019) 
(3) Single start batteries each for generators and engine 
Batteries can charge from alternator off main engine and from generators through battery chargers
SAILS AND RIGGING
RIG

New In 2010: 
•  All the aluminum rig was replaced with carbon rig by Southern Spars. New carbon main and mizzen masts and carbon Park Avenue booms 
•  All new standing discontinuous rod rigging by Nevtec Nitronic 50 ; includes new turnbuckles
•  New running rigging  
•  New headstay foil.
•  New hydraulics:  FKG Rigging in St. Marten built new tank to upgrade Lewmar power pack to accommodate upgraded, more powerful primary winches.
Reckman hydraulic roller furling for headsails. 
Navtec hydraulic boom vangs, outhauls and backstay adjuster
SAILS
All sails by Doyle:
New in 2017: 
New mainsail, fully battened 
New mizzen, fully battened
New staysail ; battened
New in 2015:
New jib (high cut) 
Assymetrical; reformed from racing yacht sail
New covers for main and mizzen
Mizzen staysail
Older sails, still serviceable:
Mizzen staysail 
Assymetrical
WINCHES
All winches by Lewmar: 
Main mast:
(4) 88 (New 2019)
(3) 700 ST 
Mizzen mast:
(1) 88 (new 2019)
(1) 77 
(2) 650 
Aft deck:
ST primaries with backwind capability
(2) 700 for running back stays
Foredeck:
(1) 700; in middle of foredeck for downhauls etc.
MECHANICAL EQUIPMENT
Main Engine: MTU 12V183TE91; rated at 530 HP (768 hrs, June 2020; last serviced at 590 hrs)
In 2019 engine work:
• Top End Overhaul
• New Boning monitoring system 
• Main engine exhaust system replaced
In 2016 engine work:
Major overhaul
ZF 665 Gearbox (New 2018)  
Richfield retractable 400 R hydraulic bow thruster; 55 HP (Refurbished/serviced 2019)
Hundestadt Variable pitch 3-blade prop (Completely refurbished/serviced 2019)
(2) 80 gallon lube oil storage tanks; one for clean, one for dirty oil
Steering is cable and chain; separate hydraulic emergency steering
(6) Headhunter toilets
Hamman Sewage Treatment Plant (new 2007, completely rebuilt 2019)
(4) holding tanks; (opened, cleaned and painted black and gray tanks 2019)
MarineAir chiller air conditioning system, reverse cycle (4 compressors replaced 2017 and two replaced since then with latest titanium coiled units; Individual air handlers replaced 2018/19) 
 In 2018/19
(2) Aquamiser + FCI water makers new 2015; (all membranes replaced by 2019) 
Anchor washdown system
Dayton Speedaire #3Z219, compressed air system for horn, dinghies, tools
FIRE SAFETY
FM 200 fire system for machinery spaces
Auxiliary fire/bilge pump system off MTU (rebuilt 2019)
New electric emergency fire/bilge pump in engine room (replaced 2019) 
Emergency diesel portable fire pump with electric or hand cord start
(14) portable fire extinguishers
New fire detection system; installed smoke alarms, connected to main panel in pilothouse and crew mess (new 2019)
REMARKS
Designed by Sparkman & Stephens (S&S) and built by Palmer Johnson (PJ), Axia is an outstanding example of excellent naval architecture, engineering, construction and interior design---the highest American pedigree that stands the test of time. 
The owners have lovingly upgraded and maintained Axia. Her rig and keel were replaced to enhance performance on the Corinthian regatta course.  New sails, new decks, new varnish and hull paint complete the exterior. The interior is in beautiful condition—hardware replated, galley equipment replaced, and mechanical systems updated or refurbished as necessary. The spacious engine room provides good working conditions, so systems have been easily updated and serviced—and Axia is running smoothly.
This classic S&S/PJ design still delivers the recent trends—excellent outdoor living spaces; on- deck pilothouse; and natural, copious light within.  Her John Munford interior is warm and graceful, but carefully planned for safe passage-making in rough conditions. Axia's tall rig, fully- battened main and mizzen provide her with the power and stability to safely cover long distances quickly. Her comfortable motion and extreme quiet below decks further enhance the cruising experience aboard, making Axia one of the best choices on the market today for a true cruising vessel.   
Axia is Marshall Islands Commercial Compliant. 
Verkäufer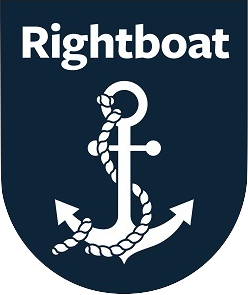 Rightboat
4 Pedlars Walk Ringwood
BH24 1EZ Hampshire

England
Impressum

Company Rightboat
England head office
4 Pedlars Walk, Ringwood
Hampshire BH24 1EZ
United Kingdom
info@rightboat.com
www.rightboat.com

Ansprechpartner
Anfrage
Was möchten Sie als nächstes tun?
Registrieren Sie sich, um von diesen Vorteilen zu profitieren:
Merkliste für interessante Objekte
individuelle Suchaufträge
Zugang zu allen Angeboten
Jetzt registrieren
Herando Newsletter