Basisdaten
Modell

203

Land

USA

Stadt

West Palm Beach, Florida

Baujahr

2013

Bootstyp

Sportboot

Kategorie

Motoryacht

Wasserverdrängung (t)

1,286
Anzahl Motoren

2

Leistung (PS)

2.038

Reisegeschwindigkeit (kn)

15

Reisegeschwindigkeit (km/h)

27

max. Geschwindigkeit (kn)

16

max. Geschwindigkeit (km/h)

29

Treibstoff

Diesel
Breite (m)

12,19

Länge (m)

61,87

Motor

MTU

Tiefgang (m)

3,71

Anzahl Kabinen

7
Beschreibung
SEA OWL is unique and perfect for those who appreciate style and performance. Designed by visionary owners, she offers unique interior masterpieces and vast deck spaces to ensure all who cruise aboard an experience at the height of luxury at sea. Ready to cruise anywhere in the world, she has been built to the stringent Lloyds classification and is a testament to Feadship's reputation for building the finest quality luxury yachts. Truly encapsulating 203 feet of safe haven, SEA OWL has proven herself as an exceptional family superyacht and is ready for her next adventure!
OVERVIEW
Delivered in 2013 by renowned yacht builder Feadship, Sea Owl is a testament to the exemplary capabilities of her visionary owners, her meticulous builder and her famed designer.  Winch Designs is responsible for the exceptional design of both the interior and exterior of the yacht.
Inspired by literature, Sea Owl offers a myriad of unique details that set her apart from all other yachts.  Her bookshelves are lined with prose that comes to life as you move through the yacht; handcrafted details accentuate her walls, while replicas of maps adorn ceilings.
The incredible Tree of Life, which wraps around the central staircase from top to bottom, is a custom, hand carved Brazilian Mahogany masterpiece with never-ending details to delight the eyes.  This creative interior decor even extends to the custom painted tromp l'oeil elevator accessing every deck of the yacht.  Each room is a distinct treat, which combines to represent one of the most highly customized and expensive Feadships ever built in the size range.
This Feadship's spacious, full-beam main salon is both inviting and elegant, decorated in light, neutral colors and complete with a warm and welcoming fireplace.  With fully opening glass doors aft, and enormous windows on both sides, natural light floods the space allowing guests to sit back, relax and take in the passing landscapes.  
Sea Owl's impressive dining area features a large custom pietre dure table under a stunning Dale Chihuly Venetian glass chandelier with a beautiful, hand-painted mural backdrop.
Seven state rooms welcome up to 14 guests and feature a variety of themes from masquerade balls to pirate tales.  The superyacht's master stateroom, on the main deck is a massive space that takes advantage of the full 40-foot beam (12m), including a large office with an custom replica of an 18th century French desk.  Sea Owl's other six guest staterooms are on the lower deck, two of which are ideally suited for children or grandchildren and can be joined together as one large bunk room.  Three VIP suites all feature unique themes to encourage guests to enjoy the fantasy.  There is also an additional cabin ideally suited for nannies, extra staff, family or friends.
The superyacht's bridge deck is a warm, welcoming family hub, with a full-beam sky-lounge/movie theater, a large gym with adjoining massage room, and a classroom for learning at sea.  Both the classroom and the gym have fold-out balconies.  The classroom is also equipped with a hidden Murphy bed.
From tranquil, alfresco dining, to sunbathing and swimming, or barbecuing with the game on one of the pop-up televisions, the Sea Owl's incredible deck spaces were perfectly planned for enjoying life on the water.
Two custom Hodgdon tenders, 28-foot (8.6m) and 27-foot (8.4m), are discreetly hidden in the forward garage bays and launched through two gull-wing doors. On the foredeck, is a smaller 17-foot (5.2m) RIB.  Yacht toys can be accessed via the fold-down swim platform and lazarette area that provides excellent water access and can also be setup as a waterside beach club. 
This Feadship has been built and maintained to the highest possible standards in every corner, from guest areas to crew quarters to the engine room.  With trans-Atlantic and trans-Pacific capability, Sea Owl is ready to cruise anywhere in the world. Ensuring this capability, the yacht has been built to the stringent Lloyds classification requirements and reinforced to handle light ice operation.  The yacht's dynamic positioning system allows her to virtually anchor when necessary, and special attention was paid to making her quiet, seaworthy, and secure.  
Behind the scenes, Sea Owl is outfitted with an unparalleled, all-encompassing, state-of-the-art surveillance and security system that ensures safety and privacy in any part of the world.  
Sea Owl has incredible spaces throughout the yacht to delight all the senses; from the baby grand Steinway, to the kaleidescape system, to the aft-folding swim platform, to the enhanced safety, security and protective features.  This yacht is impressive yet incredibly welcoming, beautifully detailed yet extremely secure, unique yet timeless.  Sea Owl is a wonder to behold and will be a cherished prize for her new owner.  

HIGHLIGHTS
1.Feadship quality and Andrew Winch Designs pedigree 
2.Lloyds Classification and MCA compliant 
3.Elevator to all decks 
4.State of the art security and safety 
5.Meticulously maintained and updated by original owner and captain
6.Trans-Atlantic and Trans-Pacific range 
7.Excellent seakeeping ability with added ice-band reinforcement at waterline. 
8.40-foot beam provides exceptional volume (1,494 Gross Tons) 
9.Capable of carrying two 8.6-meter tenders in forward garage plus toys in aft garage. 
10.Guest gym, guest massage room, children's classroom, and balconies are just a few features. 
11.Complete paint job completed in 2018 at Rybovich 
CHARACTERISTICS


LOA: 203' (62.0m)


Year Built: 2013 


Beam: 40'(12.2m) 


Draft: 12'2"(3.7m)


Cruise Speed: 15kts


Max Speed: 16kts


Range @ 12kts: 5,000nm 


Range @ 11kts: 6,000nm 


Gross Tonnage:  1,494


Max Displacement: 1,286


Builder: Feadship, Royal Van Lent, Hull 807


Naval Architect: De Voogt Naval Architects


Exterior/interior Designer: Winch Design


Construction: Steel hull (Grade A) reinforced for light ice conditions, Aluminium superstructure; teak laid decks


Classification: Lloyds register 100A1, Yacht(P), G6, LMC, UMS, EP and MCA LY2 compliance


Flag: Bahamas 


Type: Full displacement, twin screw diesel motor yacht 





Tankage:


Fuel – 147,730 liters (39,025 gallons)


Additional fuel tankage for Emergency Gen (305 gallons), Header tank (290 gallons), and Overflow tank (2,135 gallons)


Clean Lube Oil – 6,340 liters (1,675 gallons)


Dirty Lube Oil – 6,530 liters (1,725 gallons)


Hydraulic Oil – 380 liters (100 gallons)


Oily Bilge tank – 3,630 liters (960 gallons)


Black Water & Gray Water – 42,720 liters (11,285 gallons)


Black holding tank – 13,030 liters (3,445 gallons)


Fresh Water – 38,380 liters (10,140 gallons) 


Noise & Vibration Prevention


Main engines and gens are elastically mounted on engine foundations and ship's structure


Generators are placed in a separate soundproof room within the engine room


High-quality resilient mountings used for pumps, compressors, motors, etc


Large silencers used on exhaust systems with flexible connections


All piping provided with flexible connection/expansion joints


Skew-back propellers with proper clearance from the hull


2" Glasswool/Rockwool insulation behind ceilings, under the main deck, and inside the hull.


Use of sandwich damping plates & Glaswool/Rockwool to further insulate the engine room.


Feadship's high noise and vibration standards and extensive experience in coordination with noise and vibration experts.


ACCOMMODATION
Seven whimsical staterooms welcome up to 14 guests and feature a variety of themes from Alice in Wonderland to pirates to old-world maps and more. Her master stateroom is a retreat with elegant ambiance and a sumptuous en-suite bath. The suite is accompanied by a private office that showcases a replica of an 18th-century French desk and ceiling fresco of a circa 1800 world map.
The other 6 staterooms are on the lower deck, 2 of which are ideally suited for children or grandchildren and can be joined together as one large bunk room. Then you have 3 VIP king-suites which all feature unique themes with details to delight the guests.  Finally, there is an additional private nanny/staff cabin near the kid's room.
DECK & HULL EQUIPMENT


Hull Paint: Awlgrip – Jade Mist
Green


Superstructure Paint: Awlgrip –
Oyster White


Anchors: 2 x 765kg "POOL" High Holding
Power fitted into stainless steel pockets.


Chain: 7 shots (630 feet), Grade
U2 Galvanized, built-in anchor wash system.


Windlass: Muir


Elevator in center of the vessel
extends to all guest decks


Hydraulic passerelle extends 


The hydraulic boarding ladder is
installed on the starboard side and manual Sea Stair is stored on the port side.


CRANES


Electric hydraulic MOB crane on the bow that doubles as the foremast (1500kg capacity)


Electric hydraulic MOB crane on
sun deck for stowing tender during ocean voyages (850kg capacity).


Garage gantry cranes have 3000kg
capacity for large tenders.


Lazarette sliding davit for launching jet skis and toys (625kg capacity)


MACHINERY


Main Engines: 2 x MTU 16V
BHP each)      


6,550 hours on mains (March 2020)


Gearboxes: ZF, 4:1 reduction ratio


Propellers: 2 x five-bladed polished
cuneal finished to S-Class. Approx. 1900mm diameter


Shafts: C45-N special steel, approximately
180mm diameter, encased in oil bath stern tubes


Fuel/Water Separator: Alfa Laval


Bilge Water Separator: 250
liters/hour


Watermaker: 2 Reverse Osmosis –
HEM type 40 (51,000 liters per day total combined)


Water treatment: SST pre-filter,
active carbon filter, silver ion sterilizer, flow counters.  Water softener (HEM K60) installed inshore
water connection.  Three stainless steel
pressure pumps are installed.  Two
electric boilers (500 liters/24kW) are used for hot water and installed in a
continuously circulated loop.


Stabilizers: Quantum Arc 3001 MK2 zero
speed


Bow Thruster: Jastram (200kW)
electric motor, variable speed


Stern Thruster: Veth retractable (150kW).
Note: Yacht thruster is equipped with heading control when the yacht is at
anchor in winds up to 25 knots.


Black/Gray Treatment: HMSA system
to treat ALL black and gray water - zero discharge standard and in compliance
with Title XIV – Certain Alaska Cruise Ship Operations.


Air Conditioning – Heinen and
Hopman marine air-conditioning and heating plant (4 compressors) installed with
central, ducted air throughout the vessel. 
Make-up air system will be integrated for properly
cooling/heating/dehumidifying fresh air into the vessel.


Compressed Air – x2 Kaiser compressors used for
air whistle and service air    


ELECTRICAL SYSTEM


Three (3) phase, 4-wire system –
230/400 V 50Hz


Generators: 3 x MTU 8V 2000M50A
(385kVA each) – 1500 RPM, built-in sound room generator room within the engine
room.


11,200 hours as of March 2020


Emergency Generator (85kVA) with
dedicated fuel tank


Shore Power: 300kVA, including Shore
Power Converter Marpower spc-11 Hybrid installed in aft peak.


Automatic synchronizing and load
sharing between generators.  Seamless
transfer between generators and shore power


Installed an active Harmonics filter - 400 V 120A 


SAFETY AND SECURITY EQUIPMENT


Security and privacy were priorities in the design and build of the Feadship SEA OWL.


The superyacht features an extensive security system that includes but is not limited to security cameras with a 360-degree view at the waterline and fingerprint-recognition keypads. SEA OWL also has limited access points to what is necessary.


Hi-Fog mist fire extinguishing system installed in vessel along with a Hi-Fog foam system for bilges, an assortment of portable extinguishers, 4 freshwater firehose stations, and crew firefighting equipment (SCBA's).


Dekasis alarm/monitoring system installed for bilges, tanks, sewage, generators, main engines and main switchboard with approximately 500 alarm points monitored at all times.


Tyco addressable fire and smoke alarm system with detectors in each stateroom, cabin, and general area. Smoke detectors installed in the engine room. Eltek fire and safety panel.


EPIRB and SART units installed


COMMUNICATION EQUIPMENT


Enterprise-grade WiFi coverage blanketed throughout vessel, recently upgraded to latest wireless standard


Best-in-class VoIP phone system throughout vessel, recently upgrade


10 Gigabit Network Backbone for future-proofed performance


Seatel V-SAT 6009 KU installed for high speed
internet and VOIP telephones


Sailor Inmarsat FB500 installed
for internet, SMS, and voice


Thrane & Thrane
Inmarsat-C-GMDSS (TT3026D) for emergency communications


3 x Sailor VHF 6210 radiotelephone
(Bridge, crew, and Lazarette)


2 x Sailor VHF DSC (Bridge) 


2 x Sailor MFHF 6301


Inventory of VHF and UHF crew
radios


NAVIGATION EQUIPMENT


Autopilot: Navis AP 4000


Depth Finder: JRC - 380


2 x DGPS: SAAB R4 DGPS


Chartplotter: Nobeltech TimeZero, and Transas Navisailor 4000 


Autopilot & Gyro Compass:
Alphatron – Alphasea pilot & Alpha minicourse compass


Mag Compass: Kelvin Hughes
Observer MK4


Radar X Band: JRC Type JMA 5332-7BB


Radar S Band: JRC Type JMA 5332-
12BB


Navtex: JRC - NCR-333


LRIT: T&T Sailor - TT - 6120 


DP System: Konsberg YachtPos


Bell: 300mm


Whistle: Kahlenberg T-5


Searchlights – ARC (230 Volt)


Far Sounder FS 3DT


GALLEY EQUIPMENT
Verkäufer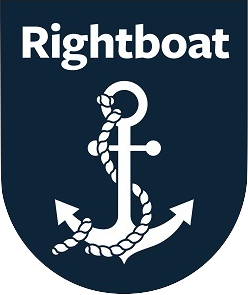 Rightboat
4 Pedlars Walk Ringwood
BH24 1EZ Hampshire

England
Impressum

Company Rightboat
England head office
4 Pedlars Walk, Ringwood
Hampshire BH24 1EZ
United Kingdom
info@rightboat.com
www.rightboat.com

Ansprechpartner
Anfrage
Was möchten Sie als nächstes tun?
Registrieren Sie sich, um von diesen Vorteilen zu profitieren:
Merkliste für interessante Objekte
individuelle Suchaufträge
Zugang zu allen Angeboten
Jetzt registrieren
Herando Newsletter